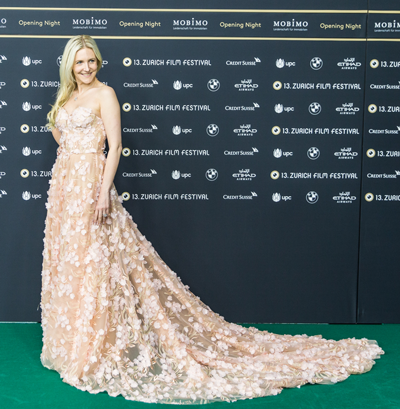 THE HOUSE
Anastasia Kiefer is a luxury brand known across the globe for creating the absolute finest in bespoke couture.
Highly reputed for its exquisite craftsmanship and timeless design, Anastasia Kiefer Couture has grown to be a top choice for the world's most influential women, whilst modestly gaining much admiration and recognition from the international press.
Originally founded back in 2016 by Anastasia Kiefer, who then embarked on a creative quest to retell the story of timeless fashion, Anastasia Kiefer today caters to an exclusive couture clientele, offering an unparalleled by-appointment-only service at the House's opulent showroom In Zurich, Switzerland.
With an eye for refined craftsmanship, elegance and reverie, Anastasia Kiefer has undoubtedly set a new standard in the realm of bespoke couture.
HAUTE CRAFTSMANSHIP
Handmade in the House's Zurich atelier, each piece is a testament to Anastasia Kiefer's high level of craftsmanship.
Intricately-detailed customised fabrics, unique hand-dyed silks and structured silhouettes have become signature elements of Anastasia Kiefer's creations, often featuring delicate hand embroidery that brings Anastasia Kiefer's creations to life.
The atelier's dedicated team of couturiers shape every element of the design process to meet the client's need, with meticulous consultation and fittings being integral parts of the Anastasia Kiefer Couture experience.
With each garment carefully constructed by the most qualified artisans in the industry, Anastasia Kiefer sources only the finest materials and top talent to work in its atelier.
With painstaking attention to detail and perpetuating age-old skills handed down from generation to generation, it can take up to several hundreds of hours of work to make a single Anastasia Kiefer Couture piece.
Anastasia Kiefer's embroidery artisans have spent years perfecting their craft, and the playful designs add the ultimate touch of luxury to the dresses. The more one looks at them, the more one can appreciate the unique details throughout the garments and translate the hidden meaning behind them.
THE CREATIVE DIRECTOR
Anastasia Kiefer is an artist and designer dedicated in carrying on the vocation of true couture.
Although originally from Russia, Anastasia Kiefer considers herself a citizen of the world. She is an artist at heart with a refined taste for all that art embodies, embracing embroidery to capture the essence of luxury and tell fairy tales through her every design.
Anastasia Kiefer debuted her first couture collection in London, instantly attracting much attention and acclaim from the international fashion press and media.
Firmly attached to her Russian roots yet inspired by diverse cultures, Anastasia Kiefer brings life and an enchanting surreal story to every one-of-a-kind piece she designs. Masterfully sculpting every dress with ornate fabrics and embellishments that transform them into otherworldly timeless pieces of art, every Anastasia Kiefer creation has its own unique identity.
Today, Anastasia Kiefer Couture has not only imprinted its structural style in the upper echelon of couture, but has also recaptured the essence of creating wearable art for its most discerning international clientele.
AMBASSADORS
A firm favourite on both the runway and red carpet, Anastasia Kiefer has established a loyal celebrity following.
Friends of the brand include many A-list Hollywood actresses who have all beautifully graced Anastasia Kiefer Couture creations on multiple red-carpet occasions.
COUTURE WITH A CAUSE
Anastasia Kiefer Couture understands just how important giving back to the community is, and we are directly involved with many grass root efforts to build new initiatives within these developing communities, whilst also being as sustainable as possible in every effort to share our Couture with the world.
Anastasia Kiefer employs skilled artisans and craftsmen from less privileged communities and regions where their talent would otherwise be lost forever.
In addition to being strictly opposed to working with any and all exotic skins and furs, a percentage from every Couture piece sold goes directly to select charities that in turn invest in local NGOs, thus providing grassroots organizations the help they need to transform the lives of the world's most vulnerable and marginalized children, their communities, and civil society as a whole.